Reading in the news - Mon 11 Mar
11 March 2019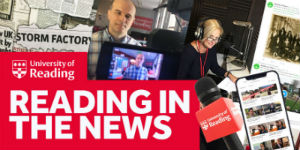 Air turbulence: Forbes reports on research by Professor Paul Williams (Met) that shows severe air turbulence will increase in the future due to climate change, after a Turkish Airlines flight attendant broke their leg due to turbulence during a flight this weekend. Read our news story.
MLS review: Times Higher Education reports on criticism of the University's review of Modern Language Studies. More information about the review on the Staff Portal.
Side hustles: Cosmopolitan run a feature by someone who is earning money for their writing in addition to their day job, which quotes Dr Rita Fontinha (Henley Business School). Read more about Henley's research on side hustling here.
Weather Rescue: Sky News report on Operation Weather Rescue, led by Professor Ed Hawkins (Met). Read our news story.
Science and comedy: BBC Berkshire interviewed Dr Joanna Bagniewska (Zoology) about this week's MERL Late event for British Science Week, where scientists will use comedy to explain their work. Read our news story about University events for British Science Week.
Other coverage
Funding through a renewed partnership with Santander Universities UK will help students at the University of Reading access overseas study experiences and internships. The story is reported by BBC Radio Berkshire and The Breeze FM.
Food Manufacture report on a presentation by Professor Ian Givens (Food and Nutritional Sciences) at the Dairy UK conference on how increasing consumption of dairy-free foods could be causing a nutrient deficiency.
Russia Today quotes Dr Nafis Alam (Henley Business School) in a report on the recent move towards a cashless society.
Green Solutions reports on the World Bee Project, co-founded by Professor Simon Potts (Biological Sciences). Read our news story.
Blouin Art Info mentions the 'Eggy and Seedy' art exhibition held by Reading International last year in a report on an upcoming exhibition by the same artist in London. Read our news story.
Reading.co.uk reports that University buildings are set to have new solar panels installed as part of a new environmental project.
A Reading study into apple scab is mentioned in a Farm Week article on how the problem is being tackled in a new field lab.
The Financial Times launches its latest essay writing competition to win a place on Henley Business School's executive MBA programme.