Parliament invitation for University's Astor scholar
11 March 2019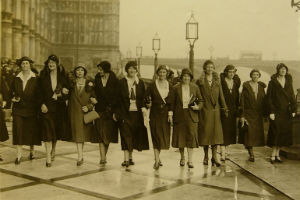 A University of Reading historian has been invited by Parliament to deliver The Speaker's Advisory Committee on Works of Art International Women's Day Lecture. She will present her world-leading research on Britain's first female MP to take her seat.
Dr Jacqui Turner will outline how Nancy Astor became a totem for women and democracy following her election 100 years ago, when she delivers the prestigious lecture on Tuesday 12 March at the House of Commons.
In her lecture, titled 'Nancy Astor: First steps towards a better balanced world', she will tell an audience of MPs, dignitaries and members of the public how Lady Astor made history by winning the Plymouth Sutton by-election on November 28 1919 and reflect on her legacy in relation to both politics today and in her role as curator of the national Astor100 programme. She will be introduced by Luke Pollard MP, the current incumbent of Astor's constituency.
Dr Turner said: "It's an honour and a privilege to be invited to Parliament to speak about such an important historical figure in such an auspicious year that marks a century of women in Parliament. It is apt that the lecture takes place a stone's throw away from where Astor boldly stepped into the male-dominated House of Commons, changing the face of UK democracy forever."
Dr Turner is leading the Astor 100 programme, a series of partnerships and activities celebrating Lady Astor, her contribution to British politics and the wider cause of women in Parliament. The programme is underpinned by a social media exhibition 'An Unconventional MP' showcasing previously unseen items from the Astor Papers held at the University of Reading Special Collections and a curated blog series.
The 'Astor Voices' project will comprise interviews with Nancy Astor's surviving grandchildren as part of the 'Vigour Vitality and Cheek' programme scheduled for April at the National Trust Cliveden, Lady Astor's former country home. It will also be an opportunity for the public to see some of the letters and political correspondence held in the University's archives.
Dr Turner also worked with Parliament last year to mark the centenary of women winning the right to vote in 2018. The Vote 100 project included the Astor piece of the Voice and Vote public exhibition in Westminster Hall.
She is also historical advisor and part of the fundraising committee that raised more than £125,000 to erect a statue of Lady Astor. Hayley Gibbs was chosen as the sculptor of the statue, which is scheduled to be unveiled outside Lady Astor's former family home in Plymouth on the anniversary of her election on 28th November.
Keep up to date with the Astor 100 programme by following @LadyAstor100 on Twitter.
Event details:
Nancy Astor: First steps towards a better balanced world
Lecture by Dr Jacqui Turner, University of Reading
March 12 - 6pm-7.30pm
Atlee Suite, Portcullis House, House of Commons, London, SW1A 2LW