Reading in the news - Tues 12 Mar
12 March 2019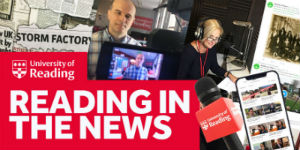 Brexit vote: Dr Mark Shanahan (Politics) appeared on BBC 5 Live to talk about Prime Minister Theresa May's upcoming meaningful vote on Brexit.
Teaching support: Free teaching assistant courses designed by Professor Helen Bilton (Education) was featured on The Breeze.
Ditching dairy: Professor Ian Givens (Animal Dairy & Food Chain Sciences) is quoted in an article by Delicious Magazine on the pros and cons of including dairy in your diet.
MBA paused: The Financial Times has an article on the cancellation of the Henley Business School's full-time MBA course for 2019/20 following a fall in applications.
Bumpy ride: A research paper by Professor Paul Williams (National Centre for Atmospheric Science) was quoted in an article by Travel and Leisure, Reader's Digest, and New Zealand Herald on why air passengers appear to be experiencing more turbulence.
Schoolchildren and the police: A project by PhD student Meggie Copsey-Blake on building relationships between Thames Valley Police and local schoolchildren was featured on The Breeze. Read our original article here.
Other Coverage