Student's work in Reading schools strengthens relationships with police and community
12 March 2019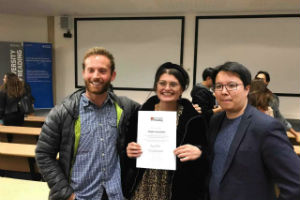 Research by a University of Reading student has helped build positive relationships between local school children and the police.
Meggie Copsey-Blake, 22, an undergraduate student in English Language and Applied Linguistics, worked with Thames Valley Police to run and evaluate activities revolving around community pride for primary school children in Reading as part of its Mini Police scheme.
Activities such as taking part in road speed checks in the community, learning first aid and visiting places of worship were organised for Year 5 and 6 pupils at Katesgrove and Alfred Sutton primary schools last summer. These were aimed at improving young people's trust in and attitudes towards the police by providing opportunities for them to meet and communicate with officers in non-conflict situations.
The work, carried out as part of a scheme that allows students to get involved in active research projects, also earned Meggie an award and puts her in contention for a national prize for outstanding British research.
"You start to learn about the Reading community and seeing the positive difference your time makes" - Meggie Copsey-Blake, University of Reading
Meggie said: "It was good to really interact with the kids myself and see how their attitudes towards the police had developed. By the end of my research they were all speaking to the police officers, saying hello and making jokes with them.
"Schemes like this are very valuable for University students themselves. You start to learn about the Reading community and seeing the positive difference your time makes. For the schools, it was valuable that I was volunteering and enhancing the children's social education."
The Mini Police scheme started in Durham and has been run by Thames Valley Police for the past two years, now involving four schools. Since Meggie's evaluation work, plans are under way to roll it out to more schools across the country.
Meggie's role was to observe the activities in the Reading schools and talk to the pupils to gauge how their attitudes were changing towards police officers as a result of these. This was an opportunity for her to use education evaluation skills she had learnt through her University studies, and produce a published report on her research.
Meggie got involved in the initiative through the University of Reading's UROP (Undergraduate Research Opportunity Programme). This offers students the chance to gain hands-on experience of research projects across all disciplines. The students work on real projects alongside academic researchers, either for six weeks during the summer or part time over a longer period, and they receive a bursary.
Award for research
Meggie's project also earned her a UROP award for her research, meaning she will present the findings at the British Conference of Undergraduate Research in April. Meggie has also kept in touch with teachers at the schools she worked at to keep up to date with how the scheme has progressed this academic year.
The UROP scheme has been run by the University's Careers team since 2006 and has given opportunities to hundreds of students.
Tom Walters was a neighbourhood police officer in Reading for Thames Valley Police and worked with Meggie, who was supervised by Dr Billy Wong in the University's Institute of Education. Mr Walters said: "Dr Wong and Meggie were crucial in producing much-needed research on the impact of the Mini Police on young people, their peers and the local community. They supported and led both quantitative and qualitative research to produce a report on the impact the programme had on confidence and trust in the police.
"This research has gone to the Assistant Chief Constable for Neighbourhood Policing at Thames Valley HQ and will impact decision-making surrounding funding for the initiative across the force. Meggie also presented her findings back at a national conference in the East Midlands and the findings of the report will support a wider piece of research on the impact of the initiative across the country, in the hope of allowing a national roll-out across the country and grant funding from the Home Office."
Image caption: Meggie Copsey-Blake with her UROP award and Tom Walters (L) and Dr Billy Wong (R)