Reading in the news - Weds 13 Mar
13 March 2019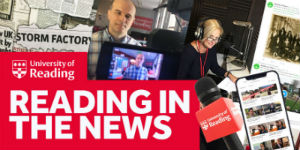 The truth about nitrates: Dr Gunter Kuhnle (Nutrition) is quoted in an article by BBC Future about nitrates/nitrites in food.
Storm Gareth: Meteorology PhD student Simon Lee's time-lapse footage of the weather front moving in across the campus was shown on ITV Meridian South.
Brexit vote: Dr Mark Shanahan (Politics) appeared on BBC 5 Live for the second evening in a row to talk about the fall-out from Theresa May's Brexit deal defeat in the Commons.
Other Coverage