Reading in the news - 15 March
15 March 2019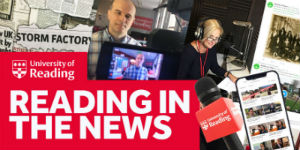 Backing British Farming: Several Agricultural students spoke to BBC Radio 4's Farming Today about plans to go into the farming industry and why they supported the Back British Farming campaign. UoR was the first University to support the campaign in 2017 and you can read our news story about it here.
Greenland ice: Comments by Prof Robin Smith (Met) about the increasing rain on Greenland's ice sheet appears in the New Scientist print edition.
The MERL: Farmers Guardian focus on the Museum of English Rural Life and England's agricultural history.
Other Coverage
Times Higher Education notes the appointment of new Vice Chancellor Prof Robert Van De Noort.

The print edition of an article in Times Higher Education reports on comments made following the recommendations of a review of the provision of modern languages at the University. A University spokesperson is quoted, and you can read our announcement of the review here.
Smithsonian Mag and Science News report on research about the evolution of phonics, and includes comments by Prof Mark Pagel (Biological Sciences).
Coverage about Parliament's debate on seeking an extension to Article 50 in the Express notes that speaker of the house John Bercow expressed his vote for remain to UoR students in 2017.

BBC Three Counties spoke to Dr Charmi Patel (Henley Business School) about excessive CEO pay in private companies.

GetReading report on the Half Marathon happening this Sunday (17th) that will pass through the Whiteknights Campus.
Jeff Callander, Programme Director of The Strategy Programme (Henley Business School) writes for the Business Magazine.