Reading in the news - Mon 18 Mar
18 March 2019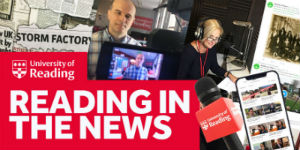 Migraine supplement: Mail on Sunday quotes Professor Glenn Gibson (Food and Nutritional Science) on a study suggesting gut bacteria could help prevent migraines.
'Pleasure chemical': The Times quotes Dr Patrick Lewis (Pharmacy) on how dopamine produced by our bodies influences our behaviour.
British farming: Reading Agriculture students spoke to BBC Radio 4 about raising awareness among fellow students about how food is farmed. Read our news story on the 2017 event discussed by the students.
Fog in UAE: Khaleej Times, Emirates News Agency and MSN News report on a project led by Professor Giles Harrison (Meteorology) studying the causes of fog in the United Arab Emirates. Read our news story about Professor Harrison's research project in the UAE.
Air turbulence increase: Daily Star reports on research by Professor Paul Williams (Meteorology) on how climate change will increase clear air turbulence. Read our news story.
Language evolution: Professor Mark Pagel (Biological Sciences) is quoted in articles in Smithsonian Mag and Farming Portal story on how developments in human bites led to us being able to pronounce new sounds.
Other coverage