Progress on Gender Pay Gap as more women progress in academic roles
18 March 2019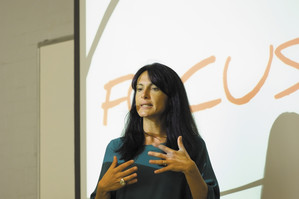 The University of Reading has made progress on its gender pay gap with a reduction in the median hourly rate of pay gap.
In a report published on the Diversity and Inclusion website, the median pay gap is reported to have fallen to 18.52% for the 12 months to 31 March 2018, a decrease from 20.99% in 2017.
Key actions that have been taken to improve the pay gap include actions to support more women to apply for senior professorial and leadership positions. The report notes that there has been an increase in women being promoted or appointed to professorships from 31.3% in 2017 to 34.58% in 2018, against a sector average of 24.6%.
Professor Parveen Yaqoob, Pro Vice-Chancellor for Research and Innovation at the University of Reading said:
"It is encouraging to see the progress which is being made to address the gender pay gap within the University of Reading. Obviously, there is no quick fix, and reducing the pay gap is a long-term commitment.
"We are especially pleased to see improvements in the balance between professorial staff with more than a third of all professors being female which is above the sector average. We hope to continue to improve this and reach our target of 40% by 2020.
"There are many initiatives that the University is undertaking which are contributing to reducing the gender pay gap, such as the Aurora leadership development courses, our commitment to the Athena SWAN award, and the Women@Reading staff network who champion gender equality across the University."
The report also takes into account the number and value of bonuses awarded to members of staff. The University of Reading operates reward and recognition schemes to encourage, recognise and value the hard work, commitment and achievements of staff who go above and beyond the normal expectations of their role.
Such schemes include the Celebrating Success award, which provides recognition to staff in real-time for a job well done, or for demonstrating the University's values and behaviours, in the form of gift vouchers ranging from £25 to £100 in value.
While the bonus pay gap has increased since 2017, from a mean difference of 18.71% to 29.34%, the proportions of men and women receiving bonuses have not changed much. In the 12-month period to 31 March 2018, 604 Celebrating Success awards were made, 67.55% of which were awarded to women, and of the 647 Lump Sum Awards made during the same period, 55.02% were for women.
There has been an increase of around 800 staff in the data. Many of those added this year are students working part-time in temporary and flexible jobs within the University of Reading and recruited through the University's Campus Jobs initiative. Students work in a variety of roles including in the University's many cafes, bars and restaurants, assisting with visit days, or as Student Ambassadors.
Additionally, the University of Reading directly employs its own catering, cleaning and portering staff, all of whom benefit from the range of rewards and benefits available to University staff.
Professor Parveen Yaqoob said:
"I am proud to see our student workers included in the report as this reflects the value and significance we place on these opportunities, as well as our commitment to be an open and transparent organisation. Students working through Campus Jobs can enjoy the benefits of working within our University community, while gaining invaluable work experience which will aid them far beyond their time with us."
Read the full Gender Pay Gap report at:
https://www.reading.ac.uk/web/files/Diversity/Gender-Pay-Gap-Report-2018.pdf