Reading in the news - Tues 19 March
19 March 2019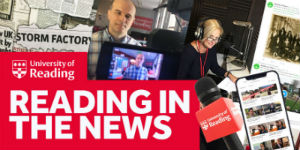 St Patrick's Hall: Heart Radio Berkshire and The Reading Chronicle mentioned the appeal for planning permission at St Patrick's Hall, which starts today.
Ben Nevis: Professor Ed Hawkins (Met) is quoted in an article by the BBC on new insights into weather conditions atop Ben Nevis, discovered through the Weather Rescue project.
Bercow's Brexit: The Daily Mail has mentioned John Bercow's appearance at the University in February 2017 in an article about his position on Brexit. Read our piece about his visit here.
Knee pain treatment: ITV has a story on a new treatment plan for patients with knee pain, which has been developed through research between the University and the Royal Berkshire Hospital. Read our story here.
Death Valley Lake: Professor Hannah Cloke (Geography & Environmental Science) is quoted in an article by Newsweek in an article on the appearance of a lake in the usually arid Death Valley after a third of the region's yearly rainfall fell in a matter of days at the beginning of March.
Other Coverage