Reading in the news - Wed 20 Mar
20 March 2019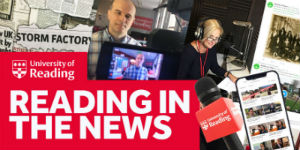 Cyclone Idai: Dr Rebecca Emerton (National Centre for Atmospheric Science) is quoted in an article by The Guardian about the work her team has been doing to help improve forecasting and warning systems in southern Africa, as part of a wider story about the impact of Cyclone Idai.
Eating disorders: Dr Paul Jenkins (Psychology) spoke to BBC Radio Berkshire about the amount of funding and support available to sufferers of eating disorders, and that vegan dietary choices are not universally available in treatment centres.
Brexit bashing: Speaker John Bercow's comments made about his stance on Brexit during a talk with students at the University in February 2017 were mentioned during a discussion on BBC Radio 2, in an opinion piece in The Daily Mail, and an article in The Times.
Pleasure chemical: Dr Patrick Lewis (Pharmacy) is quoted in a feature article by The Times on dopamine and how its impact changes throughout a person's life.
Save the High Street: Visiting Professor Dominic Swords (Henley Business School) spoke to BBC Radio Oxford about the future of high street shopping.
Other Coverage
Professor Ed Hawkins' Weather Rescue project was discussed on BBC Radio Berkshire in an interview with Stephen Burt.
Phys.org has an article on lake 'dead zones' featuring a study by the University, quoting Dr Iestyn Woolway (Met).
Farming Monthly has an article on a willow woodchip trial to tackle apple scab, following research by the University.
The Museum of English Rural Life's 'absolute unit' tweet was mentioned in a segment on memes on BBC Radio Berkshire.
An upcoming talk by Professor Tim Wheeler, formerly of the School of Agriculture, at The Spring Ferguson Lectures was mentioned in Hertfordshire Life.
Reading FC has mentioned the University in an article about the Reading half marathon, which passed through the campus on Sunday.
Abu Dhabi World has an article on a rain and fog study in the UAE by the Met dept.