Couch or sofa? Words face their own survival of the fittest
22 March 2019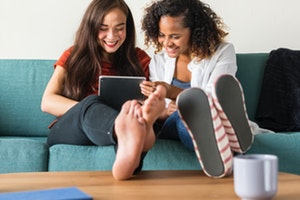 The words we choose to describe our world face their own version of the survival of the fittest, according to new research from evolutionary biologists.
A paper published in PNAS on Monday 18 March reveals the Darwinian-style evolution of words we choose to name and designate everything from food to furniture, often with the word bearing little connection between word and meaning.
Professor Mark Pagel from the University of Reading who led the study said:
"We observed a form of linguistic market force where the more a word is used, the exponentially more it is likely to be preferred. It seems that our tendency to use a word grows disproportionately faster than how often others use it. Effectively, we 'copy with a purpose'."
The paper also explores how in fewer than 10% of cases, multiple words may exist that mean the same thing, such as sofa, settee and couch.
The researchers noted that the theory explained how some words and their alternatives come to dominate usage depending on area, such as the development of a dominant use of the word sofa in the UK, and couch in the USA.
Prof Pagel said:
"The possible interaction between language and social immobility means that the mechanism we have identified would make it easy — even likely — that different words would rise to the top in different places. This is because words are not, by and large, preferred because they are 'better' but because they get used. So, small local fluctuations could and do cause some words to take off locally.
"Sofa-couch-settee is a really nice example because in the UK, sofa now dominates but in America couch dominates even though both words are used in both places. Equally, it's very likely that this is the reason why a bread roll has so many different names depending on where you are in the UK."
Full citation:
Pagel, M., Beaumont, M., Meade, A, Verkerk, A., and Calude, A. 2019, Dominant words rise to the top by positive frequency-dependent selection, PNAS, DOI: 10.1073/pnas.1816994116