Reading in the news - Tues 26 Mar
26 March 2019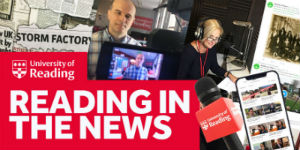 Global warming warning: Professor Rowan Sutton (National Centre for Atmospheric Science) was mentioned in an article on a new generation of climate models and the climate sensitivity of the earth in an article in Der Tagesspiegel.
Working together: Workplace Insight has an article on a new practitioner guide, designed in conjunction with The Henley Forum (Henley Business School), to help business teams prepare for change.
Other Coverage
The Centre for Literacy and Multilingualism's study into bilingualism's effects on brain power was mentioned on Heart Radio in the South West.
Retired lecturer Norman Cowell's research into the preserving effectiveness of tin cans is was mentioned in an article by The Guardian on tinned tomatoes.
A letter from a resident about the maintenance of University land near Cutbush Lane in Shinfield was published by The Wokingham Paper.