Reading in the news - Mon 25 Mar
26 March 2019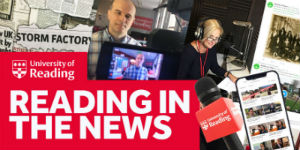 Far right resurgence: BBC World Service (also played overnight on Radio 4) interviewed Dr Daphne Halikiopoulou (Politics & International Relations) about the rise of far right political parties in Europe.
Cyclone Idai: BBC World Service, and commercial radio in the US, heard from Dr Rebecca Emerton (GES) who is involved in a project providing early flood warnings to countries in south east Africa threatened by Cyclone Idai. Tech A Peek also mentions the African SWIFT project involving Reading scientists.
Meghan's accent: Daily Express and International Business Times publish stories based on an article co-written for The Conversation by Professor Jane Setter (English Language and Applied Linguistics) on reports Meghan Markle's accent is becoming more British.
Other coverage
The Times reports on side hustling, based on research at Henley Business School. Read the Henley news story.
Dr Glynn Percival from the Bartlett Tree Research Laboratory based at the University of Reading spoke to Farming Today on BBC Radio 4 about growing high quality apples for cider making.
Japan Times reports on research showing molecular activity carries on in the organs of our bodies for a period after we die. Read our news story.
Professor Chuks Okereke (GES) was a speaker at an event in Nigeria discussing climate change and climate policies, reports The Lead.
A climate stripes graphic by Professor Ed Hawkins (Meteorology) is mentioned in a Brinkwire article on a scientists who is working on visualisations of his own.
PreventionWeb and Nigeria News report on a new digital tool analysing climate data for African policy makers, developed by a team associated with the Walker Institute.
The Countryman reports on research by PhD student Tomos Jones (Agriculture) into invasive plants.
Reading research into plant genetics is mentioned in a Telegraph article on daffodils. Read our news story.
Urdu Point references research by Professor Cathy Cresswell (Psychology) on childhood anxiety.
Yahoo News Japan reports on Reading research (Chemistry) suggesting cooking certain foods could help combat global warming. Read our news story.