Reading in the news - Weds 27 Mar
27 March 2019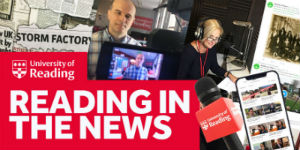 The science behind cheese on toast: BBC 2's Inside the Factory visited the University to talk about the science behind making the perfect cheese on toast. The programme was also picked up by the Mail Online and in an article here.
Cyclone Idai: Nature reports on why Cyclone Idai is one of the most devastating storms to hit the southern hemisphere, quoting Professor Hannah Cloke (Geography and Environmental Science)
Dance for dementia: The Westmorland Gazette has a piece on a charity fundraiser which has been organised by Dr Nicola Gray (Nutrition) and her husband, raising money for the Alzheimer's Society and Alzheimer's UK.
Climate conference: EnviroNews (Nigeria) has covered a conference on climate change, during which Professor Chukwumerije Okereke (Geography and Environmental Science) delivered a keynote address on the difference between weather change and climate change.
Other Coverage
Tara Pirie (Ecology) appeared on BBC Berkshire's Coffee Club show talking about light-hearted issues of the day.
The University was mentioned in an article by Current News about the National Grid's solar energy forecasting.