Thames Valley Science Park nominated for two property awards
28 March 2019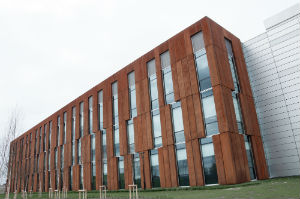 The University of Reading's ground-breaking science park development has been shortlisted for two property awards.
Thames Valley Science Park, which is being developed in Shinfield, has been nominated for two Thames Valley Property Awards, in the Business Park Innovation and Workplace Award categories.
Already home to more than 80 companies, ranging from early-stage start-ups to global headquarters, Thames Valley Science Park offers laboratories, flexible office and development space in a relaxed environment.
The awards recognise developments, companies and individuals who are making positive contributions to the region through, among others, innovative design, conscientious planning and impact on the local community.
Dr David Gillham, Executive Director of Thames Valley Science Park said:
"The Thames Valley Property Awards champion businesses and developments which are having an impact on the local area and economy, so to have been shortlisted in two categories in a huge honour for everyone involved in the delivery of Thames Valley Science Park.
"We believe Thames Valley Science Park is ahead of the curve when it comes to innovation, design and collaborative working, and the feedback we have already received from our tenants shows that more and more companies are looking to improve the way they work as the world becomes a more connected place."
Sponsored by Savills, the Workplace Award focuses on occupiers or developers who have created an outstanding workplace, judging how the design was approached and how it has created genuine productivity gains for the business. Thames Valley Science Park has been designed to encourage and facilitate interactions, following a campus-style design focused around a pedestrian concourse, and 'interaction zones' throughout the site.
The Business Park Innovation category, sponsored by Blake Morgan, recognises the role that business parks play in the Thames Valley economy, and celebrates work-life balance, facilities for occupiers and innovations in transport solutions. Thames Valley Science Park's Innovation Catalyst programme, a 'business incubator' collaboration between the science park, University, investors, advisers and innovators, has been recognised for its work to bring large and small businesses closer together through open co-workspaces and a virtual community.
The winners will be announced during a ceremony at Ascot Racecourse on Thursday 2 May.