Reading in the news - Thurs 28 Mar
28 March 2019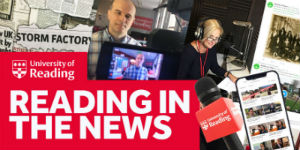 Decline in bees: The Times has a piece on the decline in wild bees in many areas of Britain, quoting Professor Tom Oliver (Ecology and Evolutionary Biology).
Disabled access event: Hackney Today has a short piece on a Disabled Access Event at Hackney Museum which was run in collaboration with the University.
Property awards: The Business Magazine has a piece on Thames Valley Science Park being nominated for two Thames Valley Property Awards.
Other Coverage