Working class Roman poetry to be rediscovered thanks to €2m funding award
28 March 2019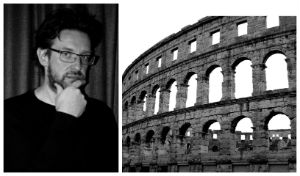 A project exploring the forgotten poetry of Ancient Rome's lower classes has been awarded a share of €540 million of funding from the European Research Council (ERC).
Professor Peter Kruschwitz, Professor of Classics at the University of Reading, has been handed an advanced grant of €2 million euros for his project taking the most detailed ever look at little-known poetry produced in the Roman Empire more than 2,000 years ago.
Poetry is one of the lasting legacies of the Roman Empire, yet much of the study of it has focused on the small selection of texts produced by the elite. The new MAPPOLA project will examine more than 4,000 surviving Latin inscriptions, many written by middle and lower class citizens, from throughout the Roman Empire (circa 300BC to 750 AD).
Professor Kruschwitz said: "Poetry was the most affordable and inclusive art form in the Roman world, allowing people of all walks of life who had a talent with words to get involved. However, historians have only scratched the surface of this incredible archive by favouring poetry written and controlled by wealthy, upper class Romans.
"This project gives power back to the lower classes of Ancient Rome and challenge the cultural superiority of the aristocracy. Looking at these forgotten inscriptions will teach us how artistic subcultures formed, how inscriptions reflect the Roman Empire's diverse population and what inspired their amazing poetry."
The MAPPOLA (Mapping out the poetic landscape(s) of the Roman empire: ethnic and regional variations, socio-cultural diversity, and cross-cultural transformations) project was chosen from 2,052 research proposals submitted to the ERC.
The 2019 round of ERC funding is spread across five years and will support researchers at universities and institutes in 20 countries across the European Union or associated with Horizon 2020.
Senior scientists across Europe will use these EU funded grants to explore their most daring research ideas. Their work could answer some of today's pressing questions, such as how to improve the generation and storage of renewable energy or how to help our biological clocks cope with our 24/7 modern lives. This 2019 round of European Research Council grants could lead to the creation of 2000 new jobs.
Carlos Moedas, European Commissioner for Research, Science and Innovation, said: "The ERC Advanced Grants back outstanding researchers throughout Europe. Their pioneering work has the potential to make a difference in people's everyday life and deliver solutions to some of our most urgent challenges. The ERC gives these bright minds the possibility to follow their most creative ideas and to play a decisive role in the advancement of all domains of knowledge."
The President of the European Research Council (ERC), Professor Jean-Pierre Bourguignon, said: "Since 2007, the European Research Council has attracted and financed some of the most audacious research proposals, and independent evaluations show that this approach has paid off. With this call, another 222 researchers from all over Europe and beyond will pursue their best ideas and are in an excellent position to trigger breakthroughs and major scientific advances."