Reading in the news - Fri 29 Mar
29 March 2019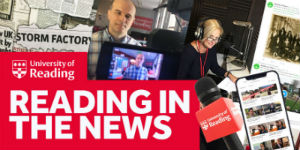 Multilingual children: The Daily Mail quotes Professor Suzanne Graham (IoE) on suggestions showing children cartoons in other languages can increase their intelligence.
Plant communication: An ABC Radio show recorded a presentation at an Australian university by scientists including Reading's Brian Pickles (Biological Sciences) on how plants can talk to each other and make decisions based on information.
Other coverage
The Breeze FM and Reading.co.uk report that the University's Thames Valley Science Park has been nominated for two property awards. Read our news story.
New Straits Times in Malaysia interviews the British High Commissioner to Malaysia, Charles Hay, on British students studying in Malaysia.
World Socialist Web Site refers to an essay being reported to the University of Reading by a lecturer last year under Prevent guidance, in an article about how universities are incorrectly identifying security threats.