Reading in the News - Weds 1 May
01 May 2019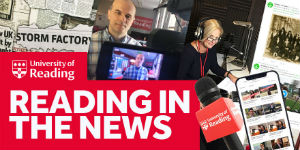 Snowball Earth: The Guardian has an article on Professor Valerio Lucarini (Maths)'s investigations into the Earth's 'melancholia states' between warm and snowball.
Cyclone Kenneth: CNBC Africa and Wired-Gov.net report that the UK will provide £3 million in aid to support the victims of Cyclone Kenneth, which hit Mozambique and Tanzania last week, and mentions a working relationship between the government and the University of Reading, University of Bristol and the Met Office to predict which areas will be most vulnerable to flooding.
Inhuman Resources: Naeema Pasha (Henley Business School) is quoted in an article by People Management.co.uk on the use of artificial intelligence in human resource investment decisions.
Notre Dame: Professor Adrian Palmer (Henley) is quoted in a piece by MarquetteWire on donations that are being made to the Notre Dame repairs campaign.
Oil Games: Professor Nafis Alam (Malaysia) is quoted in an article by Fair Observer on President Trump's ongoing cold war with Iran, and the implications for oil supplies to ally countries, such an India.