National Fruit Collection research project to continue with £2m Defra grant
01 May 2019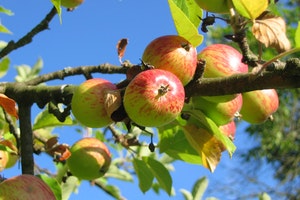 A UK's largest bank of fruit species has received Government funding to continue to preserve and protect fruit for generations to come.
The Department for Environment, Food and Rural Affairs (Defra) has today awarded the University of Reading a further five-year £2.2million contract (April 2019 to March 2024), to continue to maintain and curate the National Fruit Collection at Brogdale in Kent.
The collection is one of the largest fruit genetic resource collections in the world with more than 4000 varieties of fruit trees over 150 acres of farmland, and is part of an international programme to protect plant genetic resources for future generations. Varieties include Apple, Pear, Plum, Cherry, Vine and Cob Nut cultivars.
Farming Minister Robert Goodwill said:
"The National Fruit Collection is an immensely important genetic resource, supporting a programme of research to deepen our understanding how crops and agricultural systems can be improved and safeguarded for the long-term.
"By continuing to support genetic resource collections here in the UK, we are playing our part in a global effort to advance the productivity, sustainability and resilience of food crops worldwide."
Dr Matthew Ordidge, the scientific curator of the National Fruit Collection from the University of Reading said:
"The National Fruit Collection is recognised both across the UK, and internationally as one of the most important collections of fruit crops in the world. It is a real honour for the University to continue in our role of curation, and we hope to continue to make material and data available to a wide range of users."
The Reading scientists are also responsible for additional research, with funding from other sources, using the National Fruit Collection.
Dr Ordidge continued:
"Recent research has begun to allow the comparison of the genetic diversity held in the collection with the collections held by our colleagues in Europe and we have started to unravel some of the historical links between a number of our most well-known varieties, some of which date back to the 18th century."
Prof Richard Ellis, a Professor of Crop Production at the University of Reading said:
"We are proud of our record with our partners at the Fruit Advisory Services team of maintaining and curating the National Fruit Collection for the nation. It is a great honour to be entrusted with its care for a further five years. By maintaining the living collection since 2008, we have been able to conduct a long-term study to understand how climate change will affect future UK apple production."