Reading in the News - 2 May
02 May 2019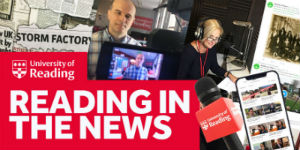 BBC News, Sky News, ITV, Mail online, and Yahoo! News (and others).
Turner nominee: Art Review covers the announcement of the Turner Prize shortlist, and notes that nominee Helen Cammock has had her work Shouting in Whispers exhibited at a Reading International-supported workshop. Read more about the workshop which took place in March here.
Disability aware: A second year UoR Politics and International Relations student is campaigning for legislation so that businesses can become more disability aware, reports BBC Radio Berkshire (approx. 14 mins in).
Other coverage:
Study International

reports on work that HE institutions are doing to support student mental health, and mention UoR and the support for Big White Wall.
<!--[if !supportLists]-->