Reading in the news - Fri 3 May
03 May 2019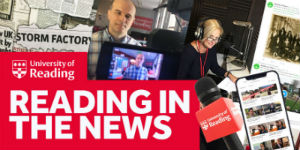 Climate change report: Professor Elizabeth Robinson (SAPD) spoke to Newsbeat on BBC Radio 1 about the emissions targets suggested to the UK government by the Committee on Climate Change in a report published on Thursday.
Flooding in Reading: BBC South interviewed Dr Arnaud Duranel (GES) about work going on to calculate the effectiveness of a new flooding mitigation scheme near Reading.
Sahria courts: John Howell MP mentioned research at the University of Reading on 'sharia law courts' operating in the UK during an address in the House of Commons. The full transcript is available via Hansard.
New Defence Secretary: The Mirror, Mail Online, iNewspaper, Grazia, Sputnik News and MSN News all report on Penny Mordaunt being made the first female UK Defence Secretary, mentioning her being a Reading alumna.
Other coverage