Reading in the news - Tues 7 May
07 May 2019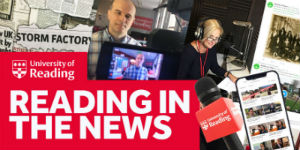 Climate emergency: Professor Sir Brian Hoskins (Met) spoke to LBC about the declaration of a 'climate emergency' by the government. Professor Tom Oliver (Ecology) is also quoted in an article by the Business Telegraph on the fear that one million species of animals and plants could be wiped out.
DEFRA appoints academic fellows: AgriLand and FarmingUK has an article on the launch of DEFRA's new science research programme to inform policy making, which Professor Tom Oliver (Ecology) has been appointed an academic fellow of. Read our original article here.
Cyclone Fani: Postgraduate research student Siobhan Dolan (National Centre for Atmospheric Science) spoke to BBC Radio Cumbria about the flooding in India following Cyclone Fani, and the use of early warning systems the University is helping to develop.
Inhuman resources: : Naeema Pasha (Henley Business School) spoke to BBC Radio 4 about the use of artificial intelligence analysis during job interviews.
Local elections: Dr Mark Shanahan (Politics) spoke to BBC Radio Berkshire about the fall-out from the recent local elections.
Spy whale: Dr Mark Shanahan is also quoted by iNews about the beluga whale in Norway which was believed to be a Russian spy.
Urban Room: The School of Architecture's Second Year project to build an Urban Room for local artists to use has been covered by The Reading Chronicle. The project is officially being unveiled this evening.
5G threat: Professor Simon Potts is quoted in an article by videnskab.dk about the potential threat to wildlife when the 5G network is launched.
Thames Valley Property Awards: The Thames Valley Science Park's win at the Thames Valley Property Awards was covered by The Business Magazine.
Hope for bees: MSN has an article on artificial intelligence being used in the fight to protect bees, and mentions a project being run by The University and the World Bee Project.
Other news
A computer programme developed by Dr James Reade (Economics) which predicts football results was discussed on BBC Radio 5 Live and BBC Radio Derby ahead of a match on Sunday. The computer's predictions were also covered by Manchester Evening News, Bristol Live and Hull Live.
The University was mentioned in a discussion on BBC Radio Berkshire about Cambridge University's investigation into historical use of slavery.
The Wokingham Paper has an article on the launch the Ask the Expert programme by the University's Knowledge Transfer Centre.
The Bishop's Stortford Flyer mentions student Jack Stewart who ran the London Marathon in under four hours.
Graduate Penny Mordaunt's appointment as Defence Secretary has been covered by Merco Press.
An upcoming talk by Dr Elizabeth Matthew (History) on William Marshal, 'the greatest knight that ever lived', is covered by The Reading Chronicle.
Fresh Plaza has an article on the National Fruit Collection research project grant from DEFRA. Read our story here.
The Oxford Mail quotes Professor Ed Hawkins (Met) in an article on the average temperature increase in the city.