Reading in the news - Weds 8 May
08 May 2019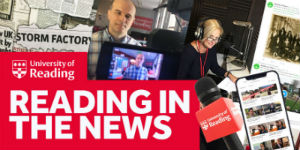 Royal Baby: Professor Kate Williams (History) spoke to BBC Radio Berkshire about the new royal baby, the first African-American member of the royal family, and the first to qualify to become President.
Adventurous play: BBC Radio Berkshire covered the news that Dr Helen Dodd (AnDY) has received a grant to study the effect 'adventurous play' has on supporting children to build emotional resilience and combat anxiety. Read our original story here.
European elections: Dr Daphne Halikiopoulou (Politics) is quoted by Al Jazeera in an article on the upcoming European elections.
Future Leaders Fellowships: FENews.com has an article on the announcement of the Future Leaders Fellowships. Dr Helen Dodd has been named as one of the first wave of recipients to receive investment in their fields.
Children scientists: Schools Week has a piece on a study led by Dr Maria Danos (Education) into early years science, and young children's ability to grasp abstract scientific concepts. Read our original story here.
Other news