Naming storms 'could save lives'
10 May 2019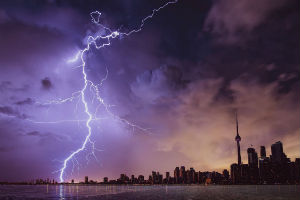 The public are more likely to take action when a storm hits if it has a name, according to new research.
Scientists conducted the first ever analysis of how information about a named storm spread through the media. The study focused on Storm Doris, which crossed Ireland and the UK on 23 February 2017, causing significant damage and killing three people.
The research, carried out by the University of Reading, Met Office and Open University and published by Meteorological Applications, found that the storm was discussed widely by the national press and on Twitter.
This led to a change in public behaviour with fewer cars on the roads during the storm compared to a 2014 storm of similar strength that was not named.
Professor Andrew Charlton-Perez, meteorologist at the University of Reading and lead author of the work, said: "Names have been given to the most severe storms affecting the UK and Ireland by the Met Office and Met Éireann for the last four years to raise public awareness of their potential impact. Our new research suggests naming storms does have the effect of raising awareness through increased media coverage, and can therefore change public behaviour and save lives.
"A big part of reducing the impact of extreme weather is helping people to protect themselves when the weather forecast calls for this. Naming storms is an effective way of spreading information rapidly and getting people to sit up and take notice. If Storm Doris had not been named, we could have seen a reduced public response and the death toll may have been greater."
Storm Doris was named through the Met Office and Met Éireann's 'Name Our Storms' project, which started in September 2015 for storms with the potential to trigger amber or red warnings. This was intended to raise public awareness of the potential dangers of such storms.
The new study analysed the impact storm names have on forecast communication. The team found there were nearly 40 articles in national press, both print and online, mentioning Storm Doris the day before it hit, with nearly 70 the following day.
The effect of the reporting and public discussion around the warnings of high winds was a reduction of rush-hour traffic on motorways in the north west of England on the day the storm hit. There was around 14% less traffic during the morning rush hour than during an unnamed storm two years earlier in the same area, for which wind warnings were also issued. Afternoon rush-hour traffic peaked around an hour earlier, with around 20% less traffic on the motorways by the evening than in 2014.
The researchers plan to carry out more analysis of more storms and of traffic data to gain a clearer understanding of how communication and public behaviour is impacted by warnings associated with named storms.
Dr Danica Greetham, Senior Research Fellow at the Open University and co-author of the study, said: "Twitter analysis based on tweets containing impact words has shown that the storm naming helped information flow about the impact, as larger connected networks were observed during Doris, and an unnamed storm in February falsely called Doris. Further work is required to see how forecast warnings are perceived and shared through social media."
Full reference:
Charlton-Perez, A., Greetham, D., Hemingway, R. (2019); Storm naming and forecast communication: A case study of Storm Doris; Meteorological Applications; Doi: 10.1002/met.1794