Reading in the News: 13 May
13 May 2019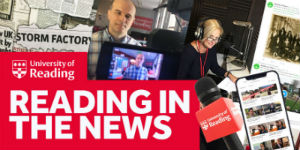 Prof Suzanne Graham (IoE) is quoted in an article for the Guardian on the 'threat' of declining language learning. Prof Graham's research is also mentioned in a Q&A in the same article, which also appears in the print edition.
Scholarship: The Henley Business School has partnered with the Sunday Times (£) to offer a competition to win a scholarship on their MA in Leadership, and profiles last year's winner.
The last Roman?: The Mirror report on the discovery of archaeological 'secrets' at the Hagia Sophia relating to Emperor Justinian. Prof Ken Dark is quoted.
The Conversation host an article by Dr Hannah Bloomfield (Met) on 'what makes the wind?'
The decision to reject an appeal relating to the planning application for developing St Patricks Hall is covered in the Reading Chronicle, BBC South and BBC Berkshire.
Professor Rajneesh Narula from Henley Business School spoke to TRT World about the US raising tariffs on Chinese goods.

BBC Radio 4 spoke to Prof Brad Hooker (Philosophy) about former student Penny Mordaunt MP who became the first female UK Defence Secretary last month.

Emeritus Professor Brian Scott-Quinn (Henley Business School) spoke to BBC R5 Live and local BBC radio about troubles at Metro Bank.

Nature publishes a letter by Dr Hong Yang (GES) on what could prevent future chemical explosions in factories following a major blast in China.

PhD candidate Liz Barnes (History) spoke to BBC Berkshire about her forthcoming Fairbrother Lecture titled 'Women's Voices: From Slavery to the #MeToo movement'.

Further coverage of a Conversation article about the use of nuclear weapons in space to destroy asteroids from Prof James Green (Law), in The Next Web.
GetReading report on a planning application for new homes in Shinfield which has been delayed.
A campaign focused on the riverside area of the Thames are hosting a consultation on plans to improve pathways, reports Reading Chronicle. The article notes that UoR owns land in the area.