Doubling capacity for children's therapy
16 May 2019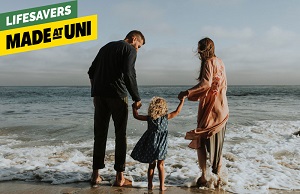 University of Reading-based psychology clinic recognised for pioneering therapy
A research clinic at the University of Reading that created a parent-led therapy for anxiety and depression has today been recognised for the exceptional contribution to keeping the nation healthy.
The Anxiety and Depression in Young People (AnDY) research clinic is one of the Nation's Lifesavers – Universities UK's top 100 individuals or groups based in universities whose work is saving lives and making a life-changing difference to our health and wellbeing.
The campaign today highlighted Dr Polly Waite and the AnDY research clinic for their work to create a parent-led CBT therapy which provides successful talking therapy support for children across the UK and the wider world, and means that twice as many children can receive therapy that works.
Dr Polly Waite, the Clinical Director of the AnDY clinic said:
"For almost 20 years, the gold standard treatment for childhood anxiety disorders has been 3-4 months of weekly cognitive-behavioural therapy delivered by specialists. Though effective, this high-intensity, one-to-one intervention means that only a small proportion of those in need can access treatment.
"The AnDY clinic was developed with the support of local NHS partners BHFT, and our team of clinical psychologists led by Professor Cathy Creswell developed and evaluated a brief and relatively simple parent-led version that can be delivered by non-specialists.
"This has doubled the number of children that each clinician can treat and manage. The therapy is now standard first-line treatment for children with anxiety orders across most NHS Trusts in the UK and is also being trialled as far afield as Iceland and China."
One parent who attended a five-week Overcoming Anxiety course run by the AnDY clinic said:
"It was a relief to be in the company of others who understood what we were going through. Thanks to the course, our daughter has made significant progress in overcoming her anxieties."
Professor Dame Janet Beer, President Universities UK, said:
"When people think of lifesavers they tend to focus on the dedication and skill of our doctors, nurses, carers, and paramedics – many of whom are trained at universities. Every day, up and down the country, universities are also working on innovations to transform and save lives. Research taking place in universities is finding solutions to so many of the health and wellbeing issues we care about and the causes that matter.
"By proudly working in partnership with charities, the NHS and healthcare organisations, universities are responsible for some of our biggest health breakthroughs and in revolutionising the delivery of care.
"This campaign is a chance to bring to life the wonderful and often unexpected work going on every day in our universities and to celebrate some of the people working to make a life-changing difference to the nation."
About Nation's Lifesavers
The Nation's Lifesavers are fighting diseases, helping new parents and children enjoy the best start in life, supporting older people and improving our mental health and wellbeing. The selection reveals the amazing use of technology, such as drones to fight malaria, a smart glove for communicating sign language and robots helping older people.
Universities from across the country were invited to nominate an individual or group who has made a significant contribution to the nation's health and wellbeing. Over 100 universities from Plymouth to Dundee submitted a nomination.
Research shows the public are proud of UK universities, but have little understanding of the benefits they bring, with most not being aware that UK academics are behind many of the discoveries that save lives and keep up healthy. The MadeAtUni campaign gives the public an insight into some of this work and celebrates those who made it happen. More information on the campaign can be found on the dedicated website:
About the Britain Thinks research
Britain Thinks polled 2,063 UK adults online between 30 May and 31 May 2018. Data was weighted to be representative of all UK adults.