Reading in the news - Weds 15 May
15 May 2019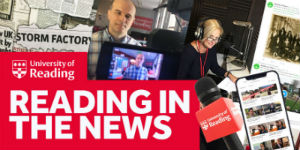 BBC Radio Berkshire about William Marshall, the so-called Greatest Knight who Ever Lived, who died at Caversham Park 800 years ago.
Chelsea Flower Show: PhD student Thomas Jones (Biological Science) spoke to BBC Radio Berkshire about the University's stand at the prestigious horticultural show, talking about invasive plants.
Gut health: Professor Glenn Gibson (Food & Nutrition) is mentioned in an article by The British Journal of Midwifery about a recent CPD meeting of midwives and health visitors at the Royal College of Obstetricians and Gynaecologists, talking about the benefits of probiotic products on gut health in infants.
Autism study: The Daily Mail has run an article on a study by the University on the effects prebiotics have on children with autism, quoting PhD researcher Dr Roberta Grimaldi (Food & Nutrition) who led the study.
Summer heatwaves: Professor Ted Shepherd (Met) is quoted in an article by Physics World about the links between early summer heatwaves and stalled Rossby waves in the jet stream.
Flavour makers: The University is mentioned in an article by iNews on flavour makers, and a training course the University offers for graduates working within the food and drink industry.
Other news
Nutra Ingredients has an article on the Berry Health Benefits Symposium, where Dr Daniel Lamport (Psychology) gave a talk on the effects of wild blueberries on cognition in 7 to 10-year-olds.
The Reading Chronicle has an article on plans to revitalise the riverside in Reading, mentioned that the University is one of the affected landowners.