Reading in the news - Fri 17 May
17 May 2019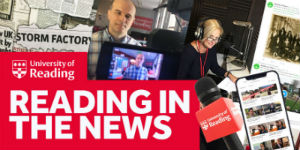 Processed foods: BBC Online, the Independent and News Atlas cover research suggesting processed foods cause people to overeat, with comments on the research by Dr Gunter Kuhnle (Food and Nutritional Sciences).
Far right politics: A BBC documentary (10mins 50 secs, 16 mins 30 secs & 26 mins) on the rise of far right political parties across Europe interviewed Dr Daphne Halikiopoulou (Politics and International Relations).
Eating disorders: ITV interviewed Dr Paul Jenkins (Psychology) on research seeking to better understand eating disorders.
Made At Uni campaign: BBC Radio Berkshire report that Reading's research to develop a parent-led treatment for children with mental health issues has been chosen as one of the top 100 research stories in Universities UK's latest #MadeAtUni 'Nation's Lifesavers' campaign. Read our news story.
Other coverage