'Absolute unit' marketing campaign lands The MERL national museums award
17 May 2019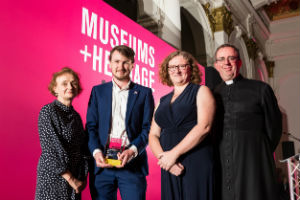 A tweet featuring an archived photo of a large sheep has helped the Museum of English Rural Life (The MERL) at the University of Reading win a Museums & Heritage Award.
The Look at this Absolute Unit meme, accompanied by a photo of an Exmoor Horn ram from The MERL's collections of materials related to farming and the English countryside, was retweeted more than 30,000 times.
The campaign that followed the viral tweet in April 2018 helped the museum vastly increase its social media following and welcome more visitors through its doors.
Kate Arnold-Forster, Director of the Museum of English Rural Life at the University of Reading said "The past twelve months have been extraordinary for The MERL, a year in which it has found a new profile, vibrancy and confidence, built on the impact of the Absolute Unit. We couldn't be more delighted by the recognition of this award."
The Marketing Campaign of the Year prize, sponsored by BVA BDRC, was collected on Wednesday by Kate Arnold-Forster, Director of The MERL, Alison Hilton, Marketing Manager, and Adam Koszary, Digital Lead. Adam said the award showed the importance of Twitter as a marketing and engagement tool.
The Look at this Absolute Unit tweet saw The MERL increase its Twitter following from almost 10,000 to more 32,000, but it was the campaign that followed which overhauled the museum's approach to social media and reach 100,000 followers by the end of January 2019.
Watch a short film about the campaign >>>
Talking about Look at this Absolute Unit, Diane Lees CBE, Director General of the Imperial War Museums and Chair of the 2019 judging panel, noted: "This is a story of risk, humour, interactivity and authenticity. It is about how one tweet about an Exmoor Horn ram has changed the rules of social engagement, influencing the sector and beyond like nothing else before."
Bernard Donoghue, the Mayor of London's Culture Ambassador, described The MERL as a 'genuine game-changer' due to its impact on the museums sector.
The Museums & Heritage Awards celebrate innovative and ground-breaking initiatives from museums, galleries and heritage visitor attractions across the UK and overseas.
A Special Recognition Award was presented to BBC wildlife documentary-maker Sir David Attenborough.