Reading in the news - Mon 20 May
20 May 2019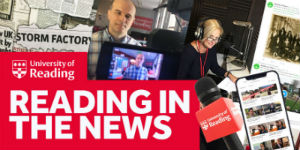 Sugary drinks: Dr Gunter Kuhnle (Food & Nutritional Sciences) is quoted on a study showing fruit juice could be even worse for our health than fizzy drinks in articles by the Daily Mail, Times, Independent, Telegraph, ITV, Express, iPaper, Mirror, This is Money, MSN, Yahoo News, New Zealand Herald and dozens of regional UK news websites. Dr Kuhnle was also interviewed on BBC Radio Scotland.
Chelsea Flower Show stand: PhD student Tomos Jones (Biological Sciences) is quoted on his stand at Chelsea Flower Show this week, in articles by Financial Times (print version here), BT, ITV, This Is Money, Yahoo News, AOL and dozens of regional news websites. Read our news story.
Processed foods: A study suggesting eating processed foods is linked with weight gain is commented on by Dr Gunter Kuhnle in News Medical and Medical Health News and Professor Bob Rastall in IFL Science.
Other news