Reading in the News - Tues 21 May
21 May 2019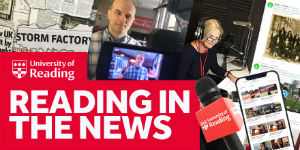 Chelsea Flower Show: PhD student Tomos Jones (Biological science) spoke to BBC Berkshire and BBC South about the University's stand at the Chelsea Flower Show. The stand's aim is to promote discussion of invasive plants in British gardens. Read our news story here.
Pint of Science: Dr Rob Hosfield (Archaeology) spoke to BBC Berkshire (53 mins in) about his Pint of Science talk. Talks by a number of academics from the University are taking place this week. Dr Vicky Boult (Met) also spoke with Breeze FM Reading about her talk, and the event in general.
Warmer climate plants: Tomos Jones is also mentioned in an article by iNews about the increasing number of warmer climate plants, such as banana plants and palm trees, that are being grown in the south east of England.
Fruit juice warning: Dr Gunter Kuhnle (Nutrition) is quoted in an article about the health impacts of drinking too much fruit juice, which has been shared by a number of outlets including People's Daily.
European elections: Dr Daphne Halikiopoulou (Politics & IR) is quoted in an article on the upcoming European elections, which has been shared by numerous outlets, including VOA News.
Landscape Institute: Landscape and Amenity.com has an article on the MERL's involvement in a project to mark the Landscape Institute's 90th anniversary.

Other news
The University was mentioned in a discussion about Brexit, which featured on various regional news stations, including BBC Berkshire.
Live4Ever has an article on The Amazon's upcoming gig at the University.
GetReading has an article on a discussion held at the University for some of the candidates of the upcoming European elections.
FEnews.co.uk has an article on the winners of the Blackboard 2019 Catalyst Awards for Europe, which the University's MA Programme team, led by Emma Mayhew and Shelley Connor, won for Optimising Student Experience.