Reading in the News - 24 May
24 May 2019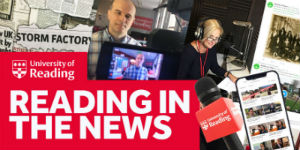 leadership: Prof Ben Laker (Henley Business School) is quoted in an article for the Telegraph (and in print) about toxic bosses who's refusal to quit has a negative effect on their colleagues – and draws parallels with Theresa May.
Victorian sex: The Guardian (and in print) have run an article by Prof Kate Williams (History) about sexual freedom in the Victorian era as an exhibition of art owned by Queen Victoria including pieces "with plenty of nudity" goes on display.
National Fruit Collection: An article for Horticulture Week (£) covers the news that the Government has awarded further funding to UoR to curate the UK's largest bank of fruit including historic varieties of apples. Read our news story here.
Other News:
Prof Rosa Freedman (Law) is quoted in articles for the Telegraph, Evening Standard (and in print) and Jewish Chronicle following a decision to allow trans women to use Hampstead Health's ladies' pond.
Berkshire Life covers the announcement of planning permission for the design of the British Museum facility next to the Thames Valley Science Park.
An exhibition for the Ure Museum of Greek Archaeology is mentioned in an article for Aeon, which also features an animation commissioned for the exhibition.
Masress cover news that waste building up in Egypt is resulting in plastic litter building up in the Mediterranean, and quotes Rana Al-Jaibachi (Biological Sciences).
Prof Keith Shine (Met) is quoted in Danish Engineering Magazine ING about the impact of aviation on global heat.
PyschCentral covers research that riding e-bikes can provide a wellbeing and cognitive boost for older people. Read our news story here.