Reading in the News - Tues 28 May
28 May 2019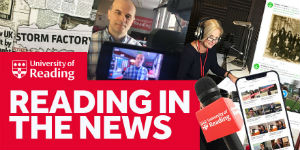 New Prime Minister: Dr Mark Shanahan (Politics & IR) spoke to BBC Radio Berkshire about Theresa May's announcement to stand down as Prime Minister. BBC News also spoke to members of the University's Conservative Association, with a piece filmed on campus, which was also shared on BBC Berkshire.
European election results: Dr Mark Shanahan also spoke to BBC Berkshire about the results of the European elections.
Pint of Science: Event organiser Chanida Fung (Biological Sciences) spoke to BBC Radio Berkshire about the week-long Pint of Science events, which culminated on Friday.
Rising emissions: Professor Keith Shine (Met) is quoted in an article by New Scientist about rising methane emissions.
Palm trees in the UK?: PhD student Tomos Jones is quoted in an article by the Daily Mail on invasive plants, and the prospect of palm trees growing wild in the UK.
Chelsea Flower Show: Horticulture Week has an article on the University's exhibit on invasive plants at last week's Chelsea Flower Show, which quotes Dr Alastair Culham (Ecology & Evolutionary Biology).
More sun in the countryside: Dr Natalie Theeuwes (Met) is quoted in an article by iNews about new research which suggests that cities get less sun than the countryside.
Weaker monsoons: Dr Andrew Turner (National Centre for Atmospheric Science) is quoted in an article by Scientific American on the 'tug-of-war' between air pollution and CO2 in Asia, and the effect on monsoon strength in the region.
Dutch education: Professor Rosa Freedman (Law) is quoted in an article by Times Higher Education in an article on changes to Dutch student financing.
Other news
Dr Rebecca Bullard (English Literature) spoke to BBC Radio 3 about Robinson Crusoe
The Amazons appeared on BBC Radio Berkshire talking about their gig at the University, which took place last night.
Graduate Dr Rebekah Robinson spoke to BBC Berkshire about a campaign to tackle spittlebugs, which can spread the olive-killing disease Xylella. The story also appeared on the BBC website.
Graduate Penny Mordaunt MP is listed by The Mirror as one of the candidates who could succeed Theresa May as Prime Minister.
Holly Vickery (Animal Dairy & Food Chain Sciences) is mentioned in an article by the Veterinary Times on the Goat Veterinary Society's annual meeting.
Matthew White (Campus Commerce) has written a piece for University Business.
Dr Ben Laker (Henley) has written an article for Business Reporter on how leaders should learn.