Join academics to talk science over a pint

16 May 2019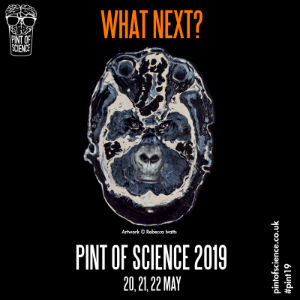 Academics from the University of Reading and beyond will be sharing their ground-breaking research with pub regulars during a series of fascinating events next week.
The international, three-day Pint of Science festival will see thousands of scientists simultaneously bringing their research out of the lab to share with the public in over 300 cities across 24 countries, including five venues across Reading.
Following the festival theme of 'What Next?', academics from the University of Reading will join experts from a range of institutions to discuss topics including ageing, climate change and language.
Reading event coordinator and PhD student Chanida Fung said:
"Reading's second Pint of Science is gearing up to be bigger, better and more jammed-packed with science.
"We have some brilliant talks lined up this year, so this is an amazing opportunity for Reading locals to hear about the cutting-edge research going on, straight from the scientists themselves."
Following a successful launch at last year's festival, this year the Reading festival also includes Creative Reactions, a programme where artists and scientists partner to inspire each other and produce incredible art inspired by research, such as paintings, sculptures, dances, music and comedy.
The festival's director Dr Callam Davidson said:
"As the festival enters its seventh year, we're absolutely thrilled to have Pint of Science reaching more people than ever before.
"This year's festival will feature some fantastically creative events cooked up by our endlessly ambitious volunteers, showcasing some of the nation's most brilliant researchers in their local pubs and cafes.
"This year has been a big one for Pint of Science, and we see some very exciting things on the horizon - join us for a pint and we'll tell you all about it."
Pint of Science begins on Monday, May 20 with events taking place at The Outlook in King's Road, The Three Guineas in Station Approach, Walkabout in Wiston Terrace, Smokin' Billy's in St Mary's Butts, and BrewDog in Castle Street.
Tickets for each event are £4 and start at 7.30pm unless otherwise stated.
For the full programme of events and details on how to book tickets visit https://pintofscience.co.uk/events/reading.