Reading in the News - Weds 29 May
29 May 2019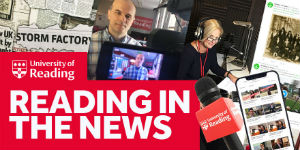 Smartphone addiction: A group of University students, filmed on campus, appeared on BBC News to talk about smartphone addiction, and the impact it could have on revision.
Star academics: Research co-authored by Dr Florence Phua (Construction Management & Engineering) on PhD student satisfaction with their supervisors is the subject of an article by Times Higher Education.
Asking for help: BBC Radio Asia mentioned a University study of 'high-achieving non-traditional' students which suggests that a mixture of pride and fear stopped them from getting support from the University's professional services. The story is also shared on BBC News online. Read our original story here.
Grass cutting: Dr Jonathan Mitchley (Ecology) spoke to BBC Radio Berkshire about the benefits of not mowing your lawn, notably improving biodiversity.
Self-concept: A study by the University, led by Emily Hards (Psychology), on the differences in self-concept between teenagers and adults, originally published in the journal Memory, has been shared by The British Psychological Society's Research Digest.
New film: A film which features an interview with Professor Kate Williams (History), entitled Capital in the Twenty-First Century, is previewed by Impulse Gamer.
Pint of Science: Louise Arnal (Geography & Environmental Science) appeared on BBC Radio Berkshire (40:52) talking about the Creative Reactions art exhibition, and her work combining art and science. Read our original story about the festival here.
Digital death: An immersive play called User Not Found, which explores the question of digital identity after death, is reviewed by Londonist. The play was inspired by a research project by the University, and the theatre company Dante or Die collaborated with Professor Lib Taylor (Film, Theatre & Television).
Science Daily mentions a University collaboration with the University of California in an article about the treatment of seizures in rats using a synthetic version of CBD.