Poet Michael Rosen highlights importance of burial artefacts in new creative works
01 November 2019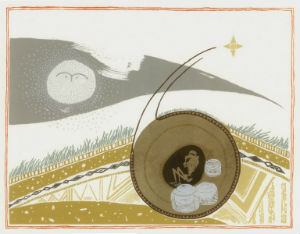 A project to examine the significance of items buried with the dead over thousands of years has inspired poetry by Michael Rosen.
'Grave Goods', a research collaboration between the University of Reading, University of Manchester and the British Museum, was set up in 2016 to examine the mortuary material culture of Neolithic, Bronze Age and Iron Age Britain.
The project has now inspired the work of former Children's Laureate Rosen, a University of Reading alumnus, who has created poems celebrating three of the fascinating prehistoric objects which have been found over the years.
Professor of Archaeology at the University of Reading Duncan Garrow says: "Objects from burials have long been central to how archaeologists have interpreted society at that time. Interred with both inhumations and cremations, they provide some of the most durable and well-preserved insights into personal identity and the prehistoric life-course, yet they also speak of the care shown to the dead by the living, and of people's relationships with 'things'."
Rosen's poems, which have been shared on his YouTube channel, were written about the Folkton drums, three chalk cylinders buried with a small child in North Yorkshire around 5,000 years ago; the Knowes of Trotty discs that were buried with a woman on Orkney in 2,000 BC; and the intricately decorated Portesham mirror, buried with an old woman in Dorset around AD 40-50.
Speaking to The Guardian, the poet said: "There is no such thing as a human being who is not intertwined with the objects of their lives.
"We express ourselves in the objects that we make, acquire, buy or inherit. It's not possible to conceive of the idea of consciousness separate from the objects through which we express ourselves."
The items captured by Rosen's poetry are just three of a wealth of treasures being catalogued into a database by the project.
Professor Garrow explains: "Often with grave goods you get a very intimate insight into past people's lives because you're dealing with an actual body and an actual moment when people put things into a grave.
"But at the same time, it's very frustrating because you don't know why they went in there or what they meant or how they related to that person that they were buried with. So, it's an interesting tension between that real intimacy and that complete lack of understanding."
"The Grave Goods project aims to shift our understanding of this broad-brush sequence from one that is impressionistic to one based on a solid, empirical understanding of the record."
For more information on Grave Goods, visit https://blogs.reading.ac.uk/grave-goods/ and https://research.reading.ac.uk/research-blog/objects-and-death-three-burials-across-time/