Reading in the news - Tue 5 Nov
06 November 2019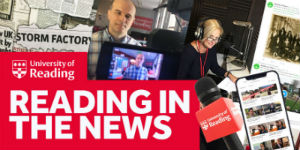 Pollution drug: The Daily Mail quotes Dr Alister McNeish (Pharmacy) in a story on a study that suggests taking certain drugs and supplements can help prevent strokes and circulatory diseases associated with air pollution.
Four-day week: The Telegraph mention Henley Business School research on the benefits of a four-day working week in two news stories on Microsoft trialling this in Japan.
Speaker election: An interview on BBC Radio 4 with a journalist mentioned the visit by Commons Speaker John Bercow to the University of Reading in 2017, where he told students he voted Remain in the EU referendum. Read our news story.
New glue: Science Daily and Long Room report on a glue co-developed by Professor Wayne Hayes (Chemistry), which comes unstuck when placed in a magnetic field.
Other coverage
Professor Adrian Palmer (Henley Business School) was interviewed on BBC Radio Berkshire about Mothercare calling in administrators.
The Ladybird Archive at The MERL was mentioned in a BBC Radio Berkshire interview about an upcoming Ladybird exhibition in Basingstoke.
A Kosovan student who completed a semester abroad at Reading went viral after taking a photo of her kissing a stranger in Paris to 'get the romantic picture she always wanted'. The story is picked up by independent.ie and several regional news websites.