Reading in the News - Weds 6 Nov
06 November 2019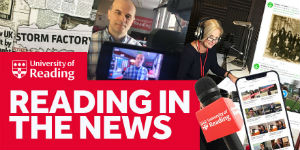 Paris Agreement: Dr David Rose (Agriculture) appeared on BBC World to talk about the implications of Donald Trump withdrawing the US from the Paris Climate Agreement.
UCU Strikes: The eight-day strike announced by the University College Union is mentioned by the BBC News website.
Pollution pill: Dr Alister McNeish (Pharmacology) is quoted in a piece by The Daily Mail about the claims a new pill could protect people from pollution.
Language exams: Professor Suzanne Graham (Education) spoke to BBC News 24 about the decision by OFQUAL to mark French and German exam papers less severely.
Office romance: Professor Nada Kakabadse spoke to the Daily Telegraph about workplace relationships after McDonald's fired its CEO for dating an employee.
Must-see movies: Lucia Nagib (Film Theatre & Television)'s debut film Passages is mentioned by a number of outlets, including Estadao and Telaviva, as one of the 60 must-see movies at this year's Cinema Screen.
Salmonella scare: Dr Kimon-Andreas Karatzas (Food & Nutrition) is quoted in an article by The Guardian on a hummus firm's fine for providing egg-free branded tzatziki dip containing egg.
Other coverage
iNews reports on a new NHS-backed CBT app, which is being developed in collaboration with the University, which could help children battle anxiety.
iNews mentions the nuclear bunker which is now part of the library in an article about the UK's Cold War bunkers.
BBC Radio 4 and TalkRadio mention the University in a discussion about former Speaker of the House, John Bercow MP.
InfoTrust reports on graduate Anita Osariemen Omunowa (Law) who has become the first black woman to graduate from a UK university with two first-class degrees
Kate Clanchy (English literature) is interviewed by The Guardian about her poetry.
Research by Henley Business School into the effects of four-day working weeks is mentioned in articles by The Daily Telegraph, iNews and MBA.co.za.
Dr Keith Arundale (ICMA) writes a piece for The Review about the difference between European and US venture capital funds.
The Farmer mentions a trial by the University of weed-killing robot, EyeSpot.
WiredGov reports that visiting professor Alan Thorpe has been appointed to the Met Office Board.
The Wokingham Paper reports on research by the University into tackling loneliness. Read our story here.