Reading in the News - Thurs 7 Nov
07 November 2019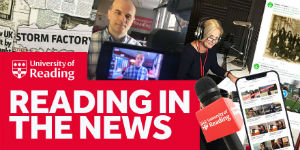 General Election: Dr Mark Shanahan (Politics) spoke to BBC Radio Berkshire about the 'purdah' period of the general election, and what that means to constituents. PhD researcher in Human Geography, Alice Mpofu-Coles, and former student Tim Brownstone spoke to Sky News in a panel discussion about whether the election will be a 'Brexit election'. RUSU President Molli Cleaver also appeared on Sky News on a later panel discussion about the election. Sky News and various radio stations, including Jack FM and Breeze 107, also mention the University in a piece about the constituency of Reading East.
Alzheimer's drug: Dr Mark Dallas (Pharmacology) spoke to TRT World about an 'exciting' new drug approved by China to combat Alzheimer's disease.
Grave Goods: Professor Duncan Garrow spoke to BBC Radio Berkshire about the project which has inspired Michael Rosen's latest poetry. Read our story here.
Climate crisis: Professor Elizabeth Robinson (Applied Economics & Marketing) joined a panel discussion for Al-Jazeera on whether we can still save the planet.
Other coverage
Coverage of the University's fossil fuel investments is featured by the Reading Chronicle.
Jon Foster-Pedley (HBS Africa) writes a piece for the Daily Maverick.