Prevent drought by using less water during wet weather, scientists say
08 November 2019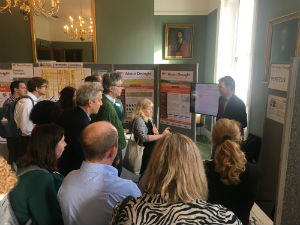 Farmers, water companies and the public must work together to save water to prevent drought - even during extremely wet weather.
This was the message from a London event to mark the culmination of a £12m five-year research project titled About Drought, part of which was led by Professor Len Shaffrey, Professor of Climate Science at the University of Reading.
Representatives from government agencies, water companies and water regulators came together at the Royal Society on Thursday 7 November to hear how drought is forecast and managed, and how every individual can use less water to prevent future drought, even during wet winter weather.
The UK Drought and Water Scarcity Research Programme used cutting-edge data to analyse how strategic decision-making can be improved in the face of our changing climate. The scientists highlighted how reservoirs and groundwater stores can quickly run low even after floods, and argued water needs to be consistently treated as a valuable resource all year round to prevent this.
The About Drought Download event was introduced by Sir Mark Walport, chief executive of UKRI. It ranged from the newest research and data tools, to an interactive drought walk, songs based on community stories and face-to-face access to the leading drought and water scarcity experts in the UK.
Professor Shaffrey, who led the programme's project on forecasting science, led the Drought Forecasting Game – an interactive and engaging way to demonstrate the improved data that supports people making crucial decisions in the face of water shortage.
Drought and water scarcity are significant threats to livelihoods and wellbeing in the UK. Parts of the country are already water-stressed and this is forecast to increase due to climate change.
Thursday also saw the launch of the About Drought Handbook, which demonstrates the significant impact of the project's research.
Visit www.AboutDrought.info and follow #DroughtDownload on Twitter