Reading in the news: Mon 11 Dec
11 November 2019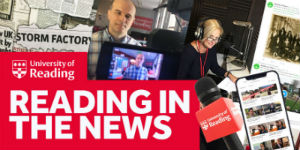 Yorkshire flooding: Prof Hannah Cloke (GES) is quote in the Daily Telegraph (and on front page of Saturday's print edition) about flooding that has affected areas of South Yorkshire. Prof Cloke spoke to BBC Radio 4's PM programme, BBC News Channel, Sky News, and BBC Radio 5 Live.
Dr Pete Inness (Met) also spoke to BBC News, and his interview was also played on BBC Radio 2, BBC Radio 4, BBC Radio 5 Live and local BBC Radio stations including BBC Berkshire.
Bath toys: Reports in Mirror, Express and The Sun cover tests conducted by Professor Laurence Harwood (Chemistry) for Channel 4's Dispatches programme on dangerous plastics found in bath. Prof Harwood is quoted. The programme will be on Channel 4 at 8pm on Monday 11 November.
'A Woman's Place': Dr Madeleine Davies (English Lit) and Prof Kate Williams (History) appear in the first episode of BBC 2's 'Novels that Shaped our World' focusing on novels that explore women's rights, including Samuel Richardson's Pamela and Constance Maud's No Surrender.
Fake followers: Research conducted by Dr Thi Ahn Tho Pham (Economics) and Birmingham Uni academics looked at the numbers of fake followers that leading politicians have, in the Scottish edition of Sunday Times.
Other coverage