Reading in the news: Tues 12 Nov
12 November 2019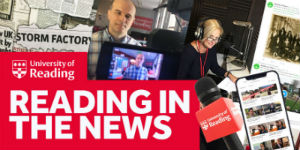 Bath toys: Professor Laurence Harwood (Chemistry) appeared in Channel 4's Dispatches programme in which he tested dangerous plastics found in bath toys. The segment starts shortly after 9 mins in.
MBA funding: Financial Times reports on ways to finance an executive MBA, and Elena Beleska-Spasova (Henley Business School) is quoted.
Misunderstanding History: Prof Andrew Knapp (History) spoke to BBC Radio 4's Analysis (approx. 9 mins in) programme about how historical events are often misused and misunderstood by politicians.
Other coverage