Reading in the News - Thurs 14 Nov
14 November 2019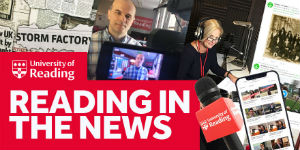 Weather and climate change:
Dr Hannah Cloke (Geography) spoke to Newsbeat on BBC Radio 1 on the effect of climate change on flooding around the world. She also spoke to BBC Radio 4 about the effect of dredging as a flood defence, and Sky News about how we can prepare for future floods.
Dr Jess Neumann (Geography) spoke to BBC Sheffield about the flooding in Yorkshire.
Professor Elizabeth Robinson (Economics) is quoted by New Scientist, The Telegraph, The Daily Mail and The Guardian about the effect of climate change on health.
Dr Jon Shonk (NCAS) spoke to BBC Berkshire about the heavy rain and subsequent weather warnings across the UK.
Professor Bill Collins (Met) is quoted by the Financial Times about the effect of climate change on air pollution and the subsequent health impacts.
Women in Law: Elizabeth Conaghan (Law) spoke to BBC Berkshire about the history of women practising law.
Impact of REF: Prof Marina Della Giusta (Economics) and Dr Christina Hellmich (Politics and IR) write for Times Higher Education warning that the Research Excellence Framework (REF) disadvantages women by not taking into account life events such as pregnancy and miscarriage.
Other coverage
Professor Rebecca Rist (History) wrote a piece for a feature by History Extra about the lasting effect of the Crusades.
A project to strengthen disaster management of women in Dominica and Guyana, which has been spearheaded by the University, is featured in a piece by Dominican News Online.