Reading in the News - Tues 19 Nov
19 November 2019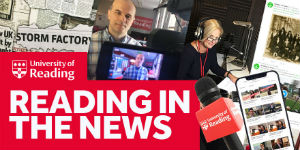 Flooding: Professor Hannah Cloke (Geography) spoke to BBC Gloucester about the future risk of flooding due to climate change and land development.
Prince Andrew: Professor Kate Williams (History) is quoted in a number of outlets, including the Daily Express, Fox News and the Chicago Daily Herald, about the fallout from Prince Andrew's interview with BBC Newsnight about the Jeffrey Epstein scandal.
Smell distortion: BBC Oxford features a study on smell distortion which is being carried out by the University, with Dr Jane Parker (Food and Bioprocessing Sciences) being interviewed.
Pheasant shooting: The Farmers' Guardian, Farming UK and The Times publish articles and letters on the University's decision to prevent the raising and shooting of game birds on its land. Read our statement here.
Urban room: Professors Lorraine Farrelly and Flora Samuel (Architecture), who spoke at the Reading Economic Forum on November 14, are quoted in an article by the Thames Tap about the importance of an 'urban room' for nurturing the town's up-and-coming businesses.
Other coverage
All week, BBC Radio Berkshire is running a feature exploring the work and research of University academics and students, which today features a visit Henley Business School.
The Reading Chronicle features an article on comedian Russell Brand's recent show, which took place at The Great Hall on Friday, and mentions the University's 'Be A Mate' campaign for Alcohol Awareness Week. Read our article about the campaign here.