Reading in the News - Weds 20 Nov
20 November 2019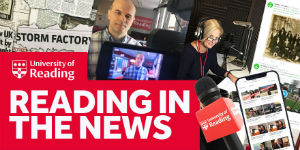 No pain, no gain: BBC Radio Berkshire continued its feature of Henley Business School's Greenlands campus, before visiting the Centre for Integrative Neuroscience and Nuerodynamics (CINN) and speaking with Dr Anastasia Christakou about the research that is carried out there, and carrying out a test to measure pain threshold.
Carbon Brief Quiz: Professor Ed Hawkins (NCAS) was a special guest at this year's Carbon Brief Quiz, which featured more than 300 people in 38 teams taking part in the climate and energy-themed quiz.
Other coverage
BBC Radio Berkshire featured an interview with Dr Jane Parker (FaBS) on a study her team is conducting into smell distortion.
BBC Radio Gloucester featured an interview with Professor Hannah Cloke (Geography) on the future risk of flooding.
The URS building is featured in an article by Architecture Today on one of the buildings the Twentieth Century Society has successfully campaigned to preserve.
Professor Bryan Lawrence (NCAS) is quoted in an article by Digitalisation World about the importance of processing and preserving research data.
The Royal Yachting Society has a report on the University Sailing Club's recent event.