#VotePlanet: Reading puts environment front and centre of General Election
21 November 2019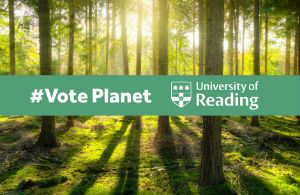 The University of Reading is highlighting the biggest threats facing the environment, as well as how research and action can combat them, ahead of December's General Election.
The #VotePlanet campaign launches today (Thursday 21 November), exploring one environmental issue each day as a countdown to polling day. Over the next 21 days, everything from flooding and pollution to food waste and recycling will be covered, backed by cutting-edge research and expert voices from Reading and key partners.
While public concern for the environment has increased significantly in recent years, the campaign aims to inform voters how these issues will affect our day-to-day lives and the planet as a whole, to help them navigate the array of manifestos and pledges put forward by political parties.
Professor Robert Van de Noort, Vice Chancellor of the University of Reading, said:
"The environment has rightly shot up the public's list of priorities as more people are taking heed of the warnings from scientists.
"At Reading, we have experts leading the way in understanding the dangers posed by climate change and other threats to our environment. Our campaign is sharing the latest environmental science with voters to empower them ahead of the General Election, which could prove to be a critical date in the fight against these threats."
The 2019 General Election has been described by some as a 'climate election'. While Brexit continues to dominate the headlines, the environment has emerged in polls as one of the biggest issues concerning voters, particularly young people.
Boosted by media coverage of the Extinction Rebellion protests and warnings of dire consequences from experts, public feeling around climate change and associated issues like extreme weather and pollution has never been stronger.
Voters ranked the environment above the economy, education and immigration in a recent Ipsos Mori survey on public priorities, while You Gov lists it as the second biggest concern after Brexit for young people.
As political parties respond with environmental policies, including protecting habitats and reducing the UK's carbon emissions, the #VotePlanet campaign will help inform voters by bringing them the latest environmental science.
It will also show where Reading is taking action as an institution to reduce its carbon footprint.
Follow the campaign on Twitter, Facebook and Instagram, and on the University news page.
We encourage academics, staff and students to share examples of how their research, teaching or personal actions are helping to benefit the environment using the hashtag #VotePlanet.
Day 21: Carbon Cutting

Day 20: Floods
Day 19: Trees
Day 18: Wildfires
Day 17: Extreme Weather
Day 16: Air Pollution
Day 15: Transport
Day 14: Green Growth
Day 13: Wildlife
Day 12: Plastic Waste
Day 11: Green Business
Day 10: Climate Change
Day 9: Farming
Day 8: Bees
Day 7: Soil
Day 6: Green Choices
Day 5: Plants
Day 4: Seas and Oceans
Day 3: Drought
Day 2: Energy
Day 1: Towns and Cities