Reading in the news: Thu 21 Nov
21 November 2019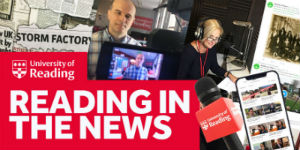 Odd smells: BBC News site covers new research in partnership with smell loss charity abSent with people who suffer with parosmia, which is where smells distort following a head injury. Dr Jane Parker (Food) speaks in the short film.
Weather: In the third part of a series of features about University of Reading research, BBC Berkshire visited the Atmospheric Observatory and spoke to Dr Hannah Bloomfield (Met). Part two of the feature is here.
The people?: Dr Daphne Halikiopoulou (Politics and IR) writes for Social Europe about populism and how the rise of the political movement is misleading.
Other coverage
Prof Paul Williams (Met) is quoted in a feature for Geographical about the idea of climate-friendly aviation.
The Times have run a further letter following the decision to not renew a lease for pheasant shooting on University of Reading land.
Prof Chris Scott (Met) spoke to BBC Radio Berkshire about magnetic fields in space.
An article published in The Conversation written by Professor Hannah Cloke (Geography) on the future risk of flooding is republished by Italian outlet Galileo. In addition, BBC Radio Shropshire spoke to Prof Cloke about dredging and the likely impact on flooding.
Research that has found a new type of glue that can be unstuck in a magnetic field is covered by SolidWaste. Prof Wayne Hayes (Chemistry) who worked on the research is quoted.
Capgemini mention research by Prof Slawomir Nasuto (SBS) and others in the Brain Embodiment Lab in an article on cyborgs.
Prof Kate Williams (History) spoke to BBC Berkshire about the ongoing story regarding Prince Andrew and links to Jeffrey Epstein.
University Business have run an article by Director of Campus Commerce, Matt White on sustainability in conferencing.
<!--[if !supportLists]-->