#VotePlanet: Sustainability at the heart of Reading campus
21 November 2019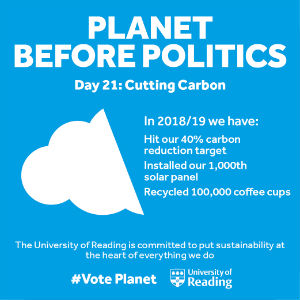 A Climate Jamboree led by students is one of the highlights of a week-long festival of sustainability taking place at the University of Reading.
Eco-friendly developments and initiatives on campus are being celebrated during the Green Festival week, which also includes biodiversity tours of campus and an energy-saving exercise class at the Sports Park.
The week comes as the University continues to make significant progress to reduce its carbon footprint. Recent initiatives have saved a tonne of coffee cups from landfill and seen enough solar panels installed on its estate to power the equivalent of half the University's entire London Road campus.
Dan Fernbank, University of Reading Energy and Sustainability Manager – who has been nominated for Energy Manager of the year by the Energy Managers' Association – said: "At Reading, we pride ourselves on finding new, innovative ways to reduce our carbon footprint and will continue to go the extra mile to make greener choices wherever we can.
"It is right we offer sustainable options to our staff and students, which is part of a long-term plan to make positive changes on campus."
Green Festival 2019 runs from 19-22 November, organised by the University's Sustainability Team.
A green careers event attracted nearly 100 students, while there have also been cycling workshops and opportunities to see inside the Energy Centre, which supplies 15 buildings on Whiteknights Campus with heating and hot water.
The University's Sustainability Team has recycled more than 100,000 coffee cups since March 2018. These are traditionally difficult to recycle due to the plastic lining inside them, but the University has worked with its waste contractor to ensure the paper and plastic are separated and both elements recycled.
There are now almost 1,400 solar panels on campus, with a further 315 panels set to be installed over the next few months on two buildings at the University's Hall Farm in Arborfield. These will provide a quarter of the buildings' daytime electricity each year.
The University hit its 40% carbon reduction target in June 2019, and work is ongoing to hit the next target of 45% by 2021.
During the 2018/19 academic year, 9.1 tonnes of lab equipment and furniture were re-used on campus to prevent new items being purchased unnecessarily, while around 500 members of staff have signed up to a sustainability 'game' that awards points for green action.
The University's School of the Built Environment has set up a 'grey water' system, which treats waste water from hand basins in the Chancellor's Building on Whiteknights Campus to allow it to be re-used. This is currently primarily used for teaching students but it is hoped it can be expanded and used for watering plants or flushing toilets in the near future.
#VotePlanet
Green Week coincides with the launch of the University of Reading's #VotePlanet campaign, putting environmental science front and centre of December's UK General Election.
The University is highlighting the biggest threats facing the UK and global environment, as well as how research and action can combat them. The campaign will explore one environmental issue each day as a countdown to polling day on December 12.
Public concern for the environment has increased significantly in recent years, with political parties unveiling various eco-friendly pledges in their election manifestos.
The #VotePlanet campaign aims to inform voters on the science behind these issues, how staff and students are taking action on sustainability, and how the University works with others to share a vision of a greener future.
Follow the campaign on Twitter, Facebook and Instagram, and on the University news page. Get involved and share your examples of sustainable action using the hashtag #VotePlanet.