#VotePlanet: Flood science helping communities prepare for the worst
22 November 2019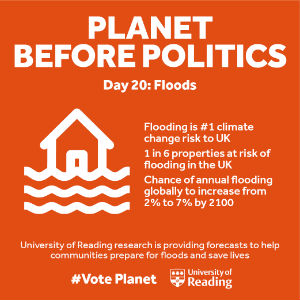 20 days to go: Floods
The latest river research is arming communities against devastating floods, with millions of homes at risk in the UK alone.
The University of Reading is home to some of the world's leading scientists investigating how rivers respond during heavy rainfall and ways governments and aid organisations around the world can prepare for the impacts before rain starts to fall.
The University has also advised the UK Government on its flooding policy, including locally in the Thames Valley area through projects like the Thames Valley Regional Flood and Coastal Committee.
Dr Jess Neumann, hydrologist at the University of Reading, said: "Floods are the biggest natural hazard affecting the UK, with around one in six homes at risk from coastal, river and surface water flooding.
"Flooding is horrendous for those affected, who have to see their homes and treasured possessions ruined by muddy water. We have made progress in helping people prepare for these events, but there is a lot of work still to be done to properly understand how rivers interact with the landscape."
Fellow Reading hydrologist Professor Hannah Cloke was awarded an OBE in June 2019 for her work on flood forecasting and won the British Hydrology Society's President's Prize in October. She also advised the UK government on the ongoing flood risk to residents in Whaley Bridge, in Derbyshire, after the town's dam partially collapsed in August 2019.
Flood forecasting reports produced by Reading scientists were used to provide early warnings in east Africa in March and April 2019 after Cyclone Idai caused widespread flooding. This is one example of collaborative work being carried out with partners such as the European Centre for Medium-Range Weather Forecasts.
Reading researchers are also working with farmer and landowners to find natural solutions to help prevent flooding.
Other experts at the University research how different elements, such as sea levels and heavy rainfall combine to cause compound flooding, and how this threatens some areas of Europe.
#VotePlanet
Flooding is one of many issues being explored in the University of Reading's #VotePlanet campaign. This is highlighting the biggest threats facing the UK and global environment, as well as how research and action can combat them, in the lead up to the General Election on December 12.
Public concern for the environment has increased significantly in recent years, with political parties unveiling various eco-friendly pledges in their election manifestos.
The #VotePlanet campaign therefore aims to inform voters on the science behind these issues, and what sustainability action it is taking as an institution.
Follow the campaign on Twitter, Facebook and Instagram, and on the University news page. Get involved and share your examples of sustainable action using the hashtag #VotePlanet.